Wings Over Africa Safari

Wings Over Africa Safari
The thrills of an East Africa safari featuring Kenya's and Tanzania's finest parks and reserves are uniquely combined with Victoria Falls and the best of South Africa. We include the Winelands, our complete Cape Town experience and the marine life of Grootbos at the tip of Africa! Delightful dining with wine and our luxury hotels, lodges + safari camps complete this ultimate adventure.
National Parks and Preserves
Safari, Animals, and Wildlife
Having survived World War II in Poland, my friend and mentor Alexander Harris founded General Tours in 1947 with the conviction that travel could build bridges of cross-cultural understanding. Since our first-of-its-kind tours to the Soviet Union in 1955 we've remained at the forefront of international travel, helping culturally inquisitive Americans explore 85 far-flung destinations on all seven continents.
Thus, for 74 years, our company … first known as General Tours and now as Ale
...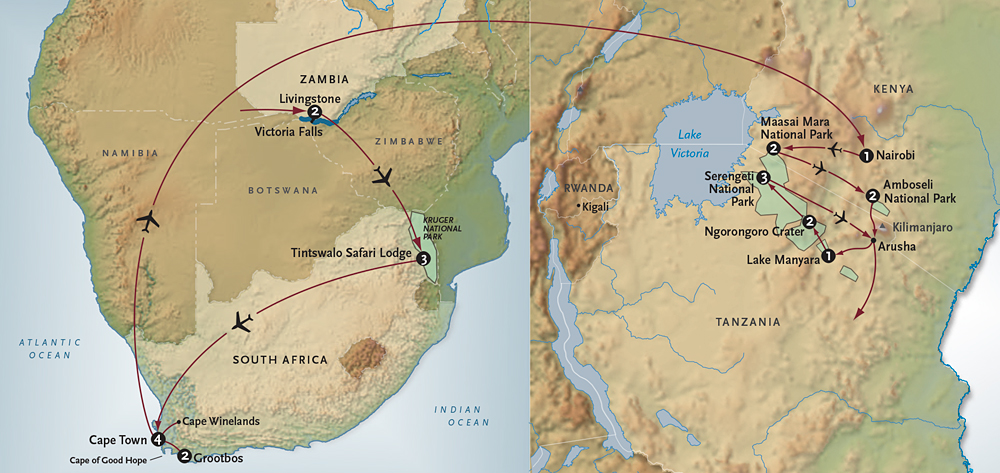 Day
Destination
1
Welcome to Zambia
2
Mighty Victoria Falls #WHS#
3
Onward to the Manyeleti Private Reserve at Kruger National Park
4
The Thrill of Safari
5
Another Day on Safari
6
Fly to Cape Town
7
Our Complete Cape Town Experience
8
The Cape Peninsula
9
A Day in the Winelands
10
Onward to the Grootbos Private Nature Reserve
11
Exploring by Sea + Land
12
Fly from Cape Town to Nairobi
13
Fly into the Maasai Mara
14
Ballooning and Game Drives in the Maasai Mara
15
Onward to Amboseli
16
Game Drives in the Shadow of Mt. Kilimanjaro
17
Through the Great Rift Valley into Tanzania
18
From Lake Manyara to Ngorongoro Crater
19
Be Among the First on the Crater Floor this Morning!
20
Into the Serengeti
21
On Safari in the Serengeti
22
Another Thrilling Day of Game Drives in the Serengeti
23
Out of Africa